Periodontal & Implant Procedures

Austin, TX


The practice of Drs. Yu & Litizzette provides a variety of surgical services. We pride ourselves on the fact that we are conservative in our treatment recommendations and limit surgery to the areas where it is absolutely necessary.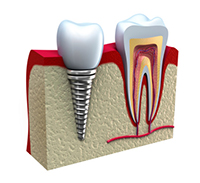 Here are the treatments and surgical procedures we provide at our office in Austin, TX.


A dental implant is an ideal solution if you are missing one or more teeth. As a periodontist, Drs. Yu & Litizzette specialize in the treatment planning and placement of dental implants. Once in place, the implant will serve as the root component of a dental prosthesis. Because it becomes a part of you, an implant is the next best thing to your natural tooth.


Guided Tissue Bone Regeneration "regenerates" the previously lost gum and bone tissue. Most techniques utilize membranes, which are inserted over the bone defects. These membranes are bio-absorbable which do not require removal. Other regenerative procedures involve the use of bioactive bone graft material and engineered proteins.


As with any implant procedure, the All-on-4 process begins with a consultation. During your consultation, one of our surgeons will perform a series of diagnostic tests to ensure you are a suitable candidate for implant treatment. This may include x-rays, photographs, CBCT scans, and other 3D imaging technology.

Most people healthy enough to undergo minor surgery should qualify for All-on-4. Unlike other implant treatment, All-on-4 does not typically require preliminary procedures like bone grafts. Once we determine that All-on-4 is right for you, we can schedule your procedure.


Dental implants have progressed to the ultimate in tooth replacement. In many cases, Drs. Yu & Litizzette are able to place an implant immediately upon removal of a tooth and even create a temporary on the implant in the same visit.

Drs. Yu & Litizzette have perfected and pioneered techniques in tooth replacement with the use of microsurgery and tissue engineering for optimum esthetic results.


Drs. Yu & Litizzette employ the newest state-of-the-art digital 3-D imaging. We continue to be at the forefront of technology and innovation. As the first periodontal implant surgeons in Central Texas to implement Dynamic 3D Navigation, we have elevated the control and precision of the implant workflow.


We are the first and only periodontal office in central Texas to be certified to use the WaterLase iPlus laser; easily the most advanced dental laser in the world. After more than 20 years of clinical research, we know that specific wavelengths in this laser yield effective periodontal regeneration of tissues, removal of tartar, and bone growth. Since the laser continuously sprays out water, it keeps the tissues hydrated preventing heat and giving patients a virtually pain free experience with quicker healing!


A quantum advancement in bone grafting has been recently employed. No longer are we passively waiting for the body to do what we hope it would do, like regenerate bone and tissue. We are now able to engineer chemical signals to drive the body's cells to mediate the growth of new hard and soft tissues. This next generation of grafting is via the use of growth factors and biologic mediators. Experienced surgeons, like Drs. Yu & Litizzette, clearly understand the power of this technology for specific situations.


Piezosurgery™ is a quantum leap in safety and precise atraumatic bone surgery. This technology uses ultrasonic microvibrations and sterile irrigation to contour bone without harming vital structures such as nerves, sinuses and gum tissues.


Gum graft surgery may be the best way to address severe gum recession. Gum recession can be the result of periodontal disease, aging, trauma, over-brushing, and misaligned teeth. Gum recession can result in substantial sensitivity issues, pain, and poor smile aesthetics.


Crown lengthening (or crown exposure) is required when your tooth needs a new crown or other restoration. The edge of that restoration is deep below the gum tissue and not accessible. It is also usually too close to the bone or below the bone.


These procedures are a predictable way to cover unsightly, sensitive or exposed root surfaces and to prevent future gum recession. If you are unhappy with the appearance of short unsightly teeth this can be greatly improved by a combination of periodontal procedures by Drs. Yu & Litizzette and cosmetic dentistry by your dentist.